More than a Caricature...
it's an AxToon!
Contact Steve Axtell
by Email Here
I'm booked for about 4-5 weeks out right now, and they keep coming in, so there is no way I can rush these.
I will give yours 100% attention.

Reserve your spot now with the Paypal Link here. Note caricatures are head and shoulders only. If you want a full body or special action contact me for a quote.

These are introductory prices below and will be going up at some point for a caricature.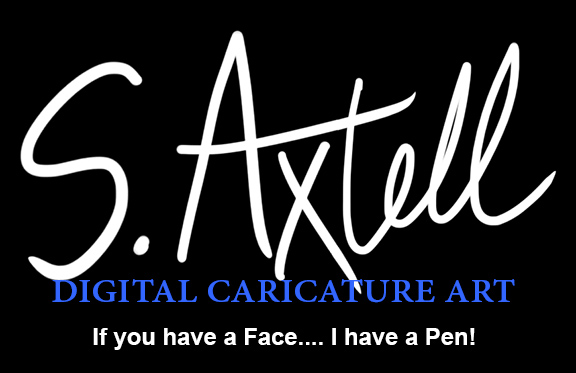 I love faces! For 35 years I've sculptured 3D caricatures, puppets, monsters & characters for the entertainment industry.
This is the website for my 2D caricature artwork. The originals of my digital art are typically 8 x 10" at 300 high resolution. These thumbnail images below do not represent the high quality of the actual work you will receive.
These make great gifts for birthdays, retirements, holidays...or just an awesome present for yourself!

My detailed caricatures take 5-10 hours to complete- hand drawn and digitally painted using my graphics tablet & pen.
The process is really fun! Once completed I will email the high resolution image to you. You can then print it out on high quality paper, or even on canvas - for framing as an 8 x 10" or blown up to a 16 x 20" or even bigger size!

You can also use the digital caricature for your facebook profile or other social media, websites, logo, brochure promotions, advertising, business cards, coffee cups, T-Shirts, your computer or smart phone wallpaper or anything!

If you have a face, I have the pen.....and I look forward to working with you!